What is π
-A isotherm

?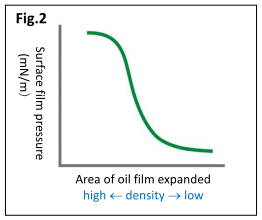 The π-A isotherm or surface pressure-area isotherm shows the relationship between the surface film pressure and the area per molecule. The uniform density of oil molecules can be controlled by setting the surface film pressure of the SOM-R just before the collapse of the monolayer. The maximum surface pressure is usually set to 8 mN/m.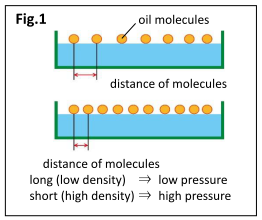 Monolayers are characterized by their surface film pressure. Reducing the surface area will compress the molecules of a monolayer, resulting in a higher density of molecules and a higher surface film pressure.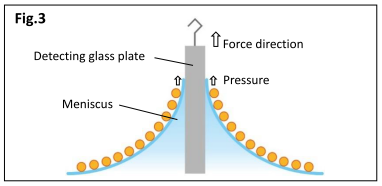 When the measuring probe (glass plate) is immersed in the water subphase, the water is wetting the glass plate and creates a concave meniscus. The oil molecules are arranged on the water surface and build the surface film pressure. This pressure forces the glass plate to move upwards, which can be detected by the precise balancing system.
Measurement of Oil Film Thickness
Most oils have the characteristic to spread uniformly on the water surface as a monomolecular film or monolayer if the area is large enough for the oils to spread freely. By controlling the packing density of oil molecules, which spread as a monolayer on the water surface, per unit area, the oil volume can be determined from the relationship between the spread area and the diameter of the oil molecules.
Related Product