Peel Tester VPA series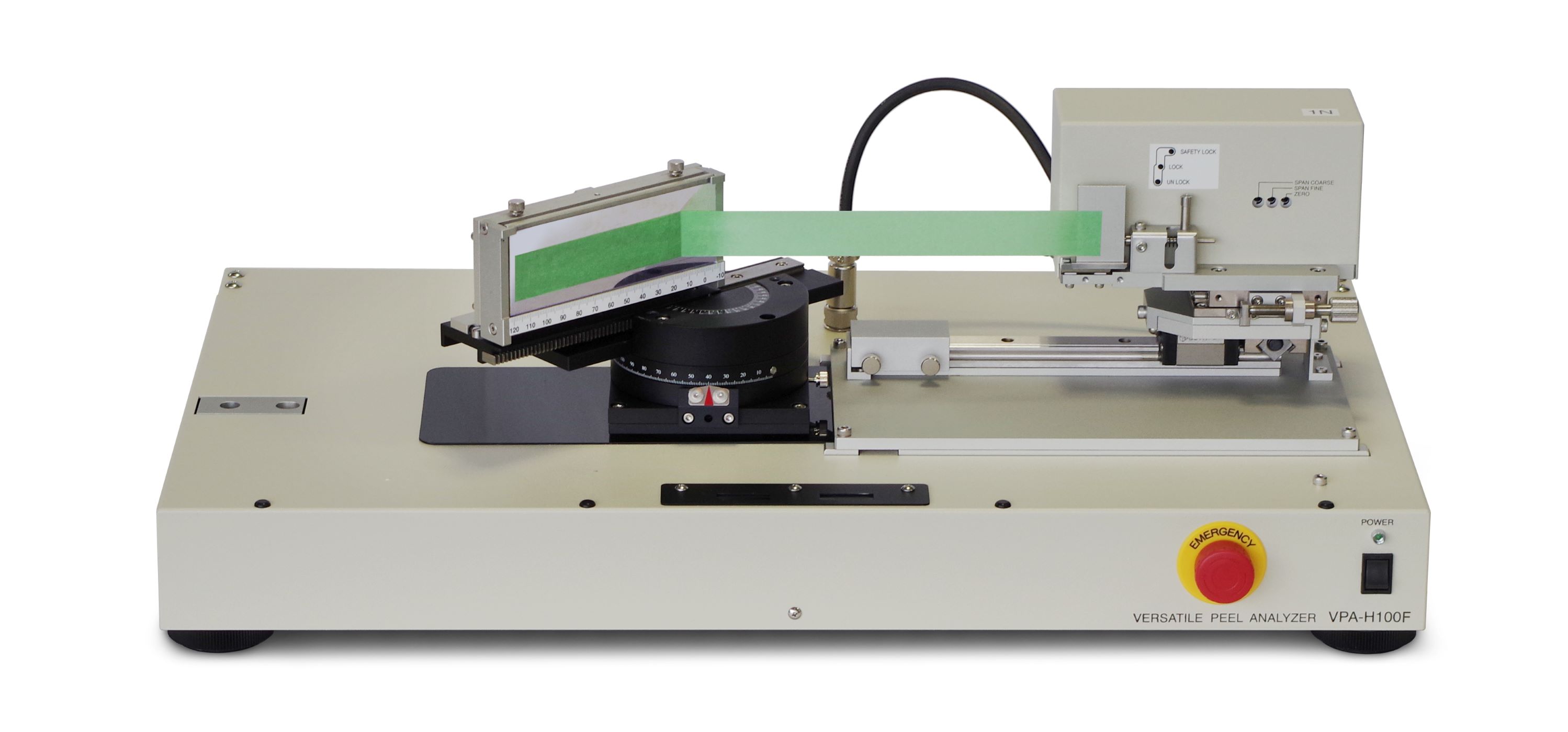 VPA-H100F: Compact model with 100mm wide sample stage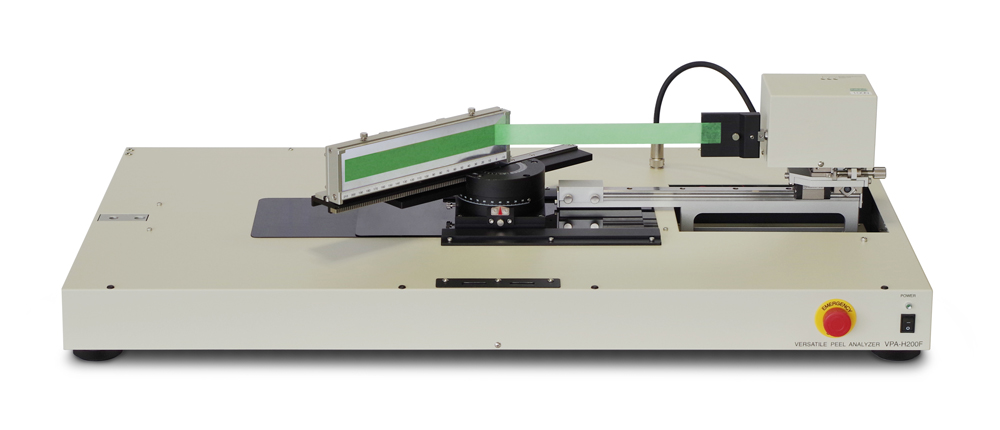 VPA-H200F: Standard model with 200mm wide sample stage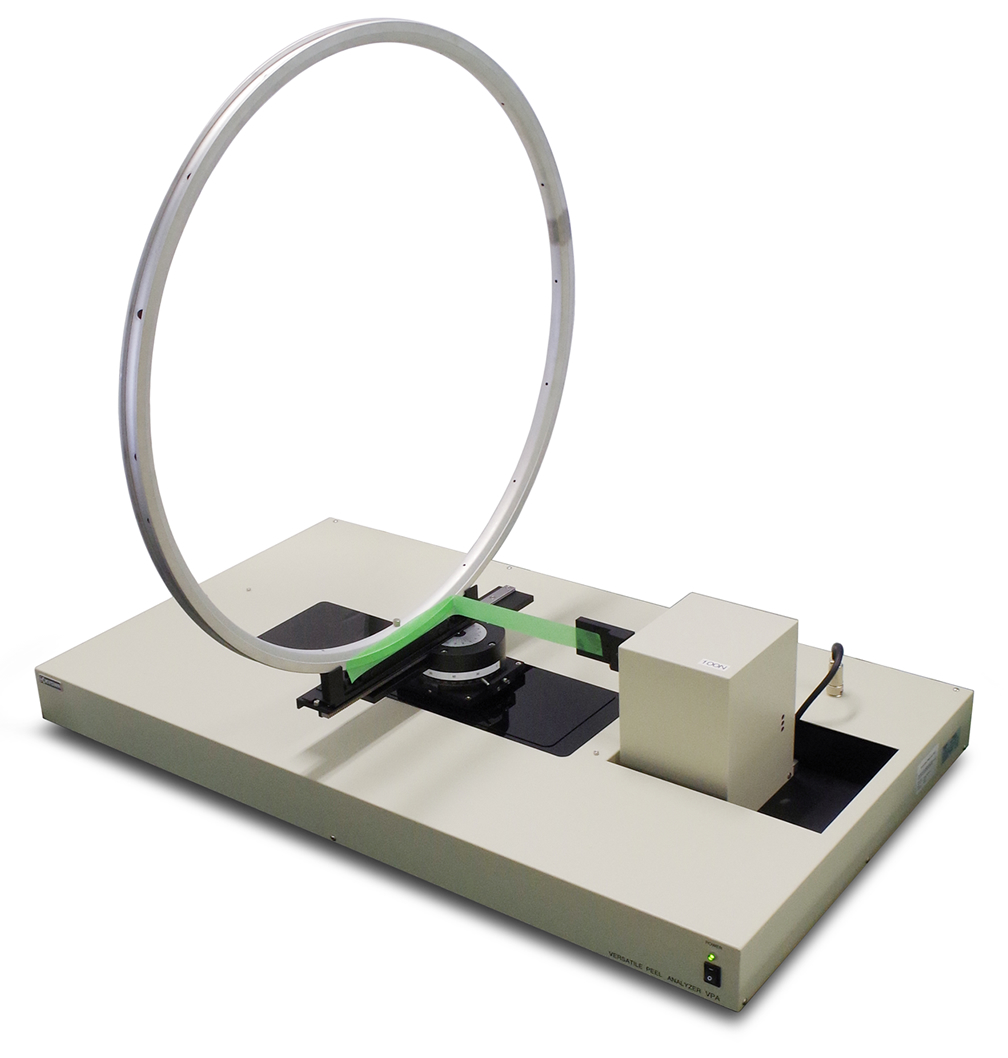 Specially designed sample stage to mount bicycle wheels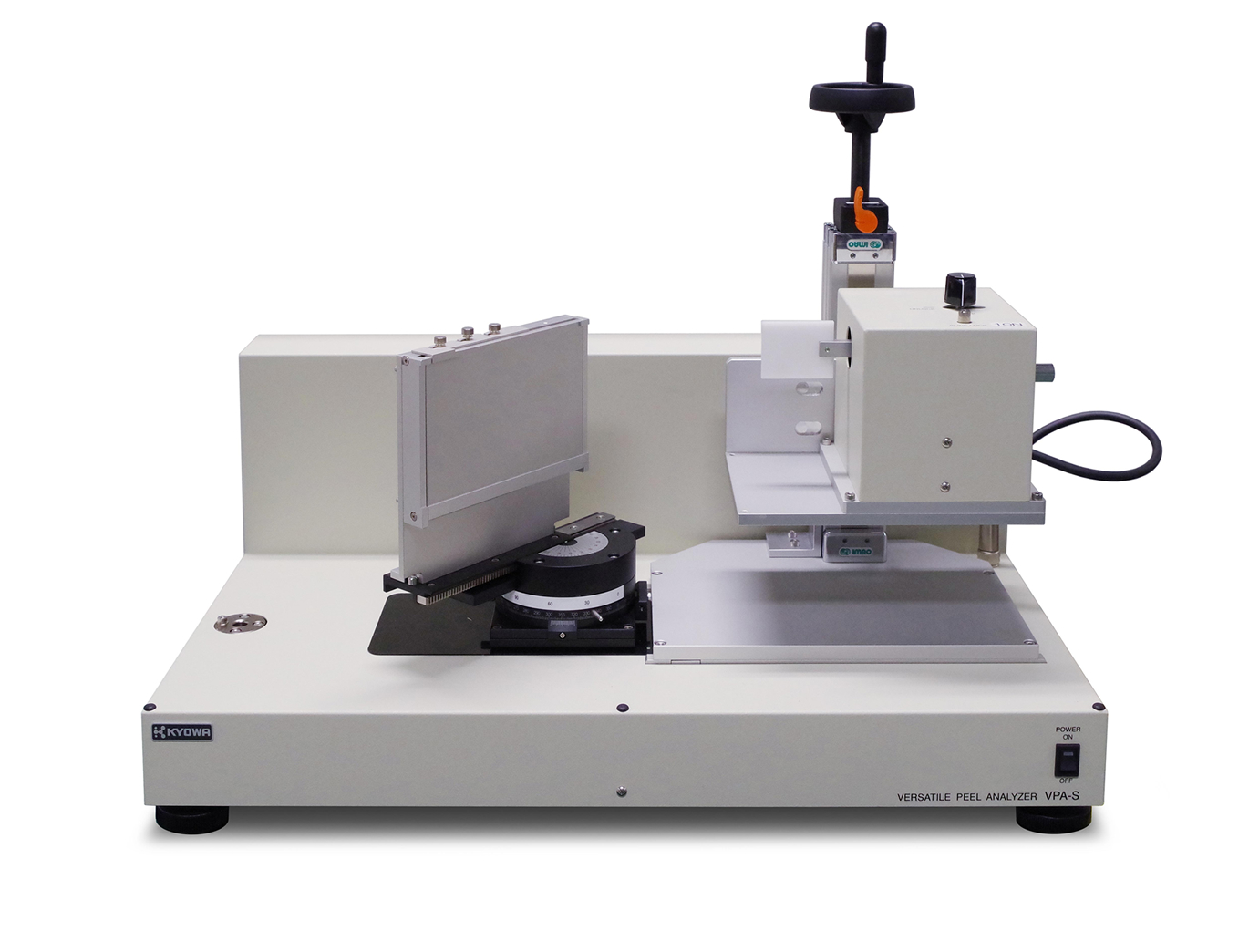 Specially designed sample stage with height adjustable cell unit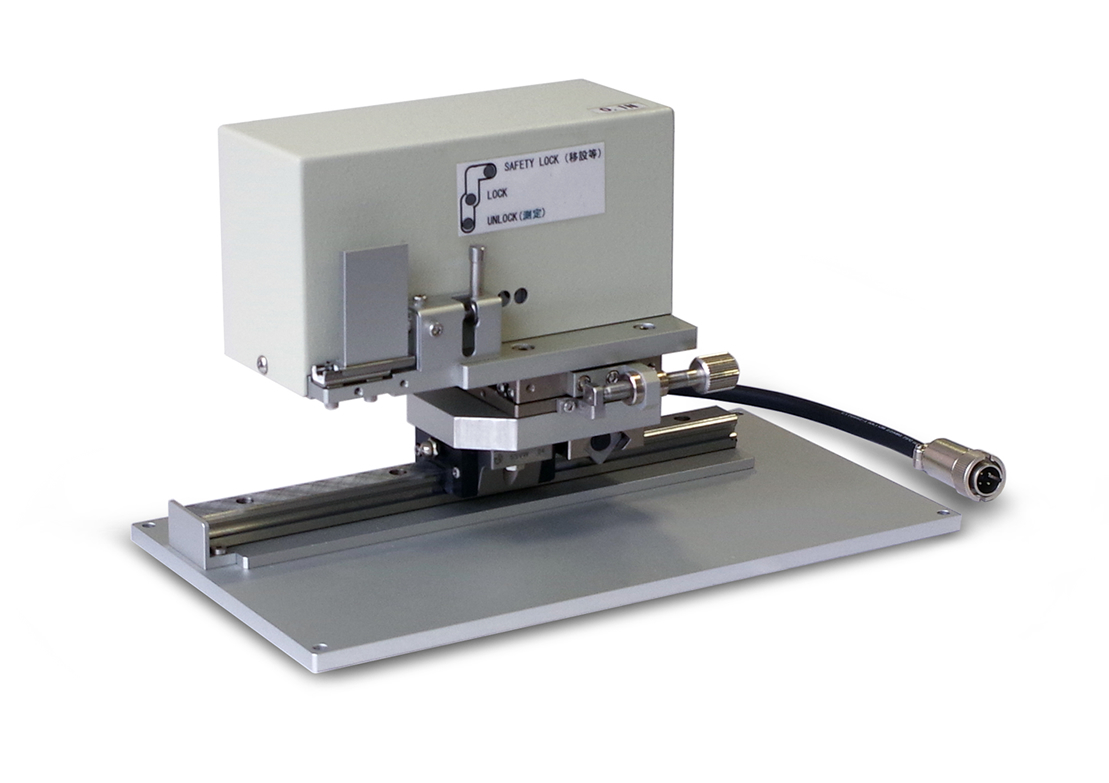 Exchangeable load cell units: available with 0.1N, 1N, 5N, 10N, 50N, and 100N full scale rated capacity




With the development of our Versatile Peel Analyzer VPA series, measurements, once impossible or hardly achieved with conventional tensile strength testers, have finally become possible. When equipped with our low force load cell with a full scale rated capacity of only 0.1N, even minuscule peel strengths as low as 0.001N can be measured and easily compared.
The most remarkable feature of our Versatile Peel Analyzer VPA series is that the peel behavior of composite materials, such as packaging materials, laminated materials, laminated films, coating films, ceramic green sheets, etc., can be evaluated under freely adjustable peel angles from 0 to 180º using Kyowa's unique proprietary 'Flat Plate Cross Stage Method' and self-developed analysis software.
While the standard VPA-H200 model and the compact-sized VPA-H100 model share the same functions and features, the sample stage of the VPA-H200 with a length of 200mm allows for an effective peel distance that is twice the VPA-H100. The maximum speed of the sample stage of 30.000mm/min allows for a peel rate 2.5 times higher than that of the VPA-H100.
Peel Strength Testing
Pressure-sensitive adhesive tapes, or PSA tapes, play significant roles as constitutive and integral parts of production processes in various forefront industries such as flat panel displays, semiconductors, optical instruments, solar batteries, automobiles, architecture, and medical treatments.
The peel adhesion, shear resistance, and tack tests characterize the performance of PSA tapes. The widespread peel adhesion test delivers an objective appraisal with quantitative evaluation following international standards ISO 8510-1 and 2, the 90º peel test, and the 180º peel test. The 180º peel test tends to be affected slightly by the thickness and elasticity of PSA tape, and the 90º peel test may experience elongation and sagging of PSA tape due to the somewhat complicated structure of the jigs.
Demands on peel adhesion, peel angle, and peel rate for optimizing adhesive tapes used in production processes vary widely depending on the applications.
KYOWA's patented Flat Plate Cross Stage Method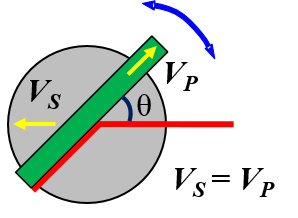 The flat specimen stage sits on a rotary table, with which the peel angle can be swiftly adjusted from 0 to 180º without using jigs or tools. The employed synchronized actuator mechanism enables maintaining the same peel rate and peel angle during the stage travel. No complex adjustments and calculations are required.
Quick and easy setting of the peel angle
Peel angles can be changed quickly and easily without extra jigs or tools within a few seconds. To change the peel angle, loosen the locking screw of the rotary table, adjust the desired peel angle according to the affixed angular scale, and tighten again the locking screw. That's how simple it is!

Demonstrations of peel tests at different peel angles
Example of peel strength data
The graph shows an adhesive tape's typical peel strength curve depending on peel angles. At a peel angle of 30º, the peel strength has its highest value, decreasing gradually with higher peel angles up to a peel angle of about 120º. Here can be seen a turning point, from which the peel strength slightly increases gradually with higher peel angles.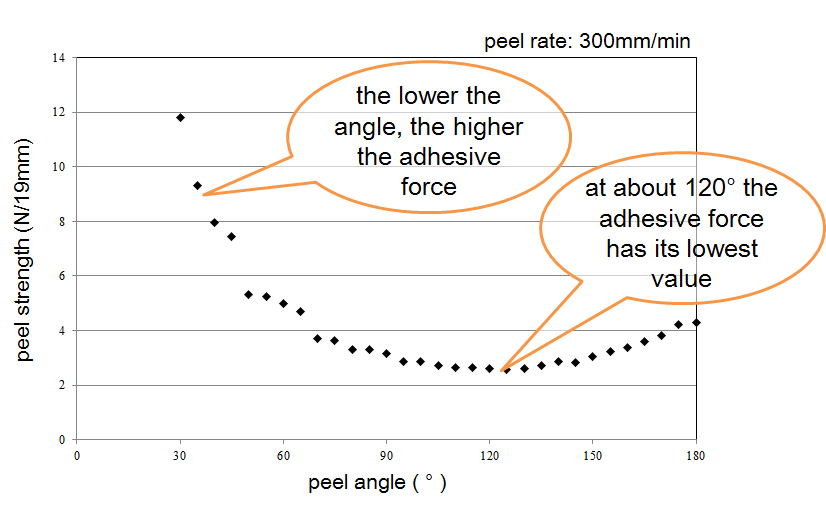 Peel angles between 0 and 180º

Peel rates from 3 up to 30.000mm/min

Effective peel area of up to 40x200mm

Quick and easily exchangeable load cell units (0.1N, 1N, 5N, 10N, 50N, and 100N full scale rated capacity) incl. calibration kit

Overload protection (at 90% of the full-scale rated capacity of the load cell)

Emergency stop button
Hardware
Heater-type temperature-controlled sample stage for measurements from ambient to +180℃

Jacket-type temperature-controlled sample stage for measurements from +10 to +70℃

Protective cover with an optional interlock safety switch

2kg manual hand roller for preparing tapes

Peel behavior observation by a special camera system

Equipment for tensile strength testing (applicable only with 50N or 100N load cell units)

A wide variety of different kinds of grips, such as pneumatic grips

Special sample stage for 180º peel tests
Effects of peel angles and peel rates on peel behavior of PSA tapes, packaging films, labels, release papers/films

Peeling properties between carbon fiber prepregs and release papers

Releasing strength between protective films and critical surfaces such as phone displays, glasses, metals, carpets

Peel/bond strength between laminated film layers, holograms on plastic cards, coating films on glass or metal, adhesive tapes on silicon wafer and frames

Adhesive strength between thin-film electrodes and current collectors in lithium-ion batteries

Adhesive strength between ceramic green sheets and carrier films for laminated ceramic capacitors

Visualization/observation of the peeling process from above and behind the adherend

Low force tensile strength tests of various films
VPA-H100F
VPA-H200F
Measuring method
Flat Plate Cross Stage Method
Rated capacity (full scale)
load cell units
0.1N, 1N, 5N, 10N, 50N, 100N


Maximum measuring load
90% of the load cell's rated capacity
Display resolution
of load cell units
0.1N, 1N, 5N, 10N: 0.001N
50N, 100N: 0.01N
Adherend sample shape:
Dimensions (WxL)
Maximum thickness
flat sheet, plate, or strip
50x130mm
3mm
flat sheet, plate, or strip
50x230mm
3mm
Max. peel area (WxL)
40x100mm
40x200mm
Stage travel speed range (Vs)
3-12000mm/min
3-30000mm/min
Max. stage travel distance (Ds)
100mm
200mm
Default sampling rate 1)
every 0.20mm
every 0.25mm
Peel rate (Vp)


Vp=Vs (Peel rate=Stage travel speed)
the peel rate is independent of the peel angle
Peel rate dependency


measurement of one peel rate or
gradually changed peel rates within one measurement cycle
Peel angle dependency
measurement of any peel angle between 0 and 180°
Analysis contents



- peel force versus peel distance
- peel force versus peel rate
- peel force versus peel angle
Dimensions (WxDxH)
620x400x270mm
910x550x270mm
Approximately weight
25kg
41kg
Electric power:
Voltage
Frequency
Power consumption

AC100-240V
50/60 Hz
25W 65VA
Operating environment


temperature: +10 to +35℃, humidity: 30-80%RH (non-condensing)
positioned away from sources of electrical noise and vibration
1) For both models, the sampling rate can be set to 0.10mm for peel rates up to 6000mm/min and to 0.05mm for up to 3000mm/min.